Buying a family boat is a huge investment. It's not just a monetary investment, but an investment in your family's time. The memories you will make on your family boat will be priceless. Because it's such an investment, you want to make sure you buy the right one. There are so many options out there, but how do you know which will be the best fit for your family. Here are some factors to consider when determining if a particular vessel is a good family boat.

Big Enough for the Whole Family
If you're buying a boat for your family, you want to make sure you get something that is big enough for your family. When you're shopping for boats, look for something that is big enough for at least a family of four. Some 17-foot bay boat models can seat a family of four, but if you're planning on spending hours out on the water, or intend on entertaining a group of adults, you may want to consider a 24 foot bay boat or larger.
Spacious and Comfortable Seating
Aside from being large enough, the ideal family boat has plenty of seating. The most functional models make seating that is easily convertible to storage. This lets you take advantage of more seating when you need it without having to sacrifice the storage you might need for a fishing trip.
Crevalle Boat's family-friendly models have plenty of extra seating options. Our 24-foot hybrid bay boat, 26-foot hybrid bay boat, 26 hybrid blue water, and 33 sportfishing boat all have the following seating options:
A 40 inch aft seating bench. This is big enough for two adult men or three kids. The seats are elevated so as you ride through the waves, you'll feel like you're on top of the boat rather than in it. This can be a thrill when you're speeding through the waves.
Optional bow cushion package to lounge out and sunbathe. Increase your comfort with removable backrests.
Comfortable, cushioned helm bench with room for two.
The 33 CSF has even more seating options. A second station at the helm offers room for two more riders up top. This model is also known for its cockpit seating where you can enjoy a lovely L lounge arrangement. You also have the option to add in filler cushions to make a sundeck.

Personal Comforts
One of the most important things to consider when deciding whether a boat makes a good family boat is whether or not your family will be able to spend hours on the open water. If you intend to enjoy day trips out on the water, you may want to look into bathroom and shower features.
The large center console of a hybrid bay boat can be the perfect place for a porta-potty. This is available as an add-on boat accessory when you purchase a Crevalle.
Some modern boats, such as the 33 sportfish have a hard-top shower. This isn't something you would use for a full shower, but it's a great way to wash off the salt after enjoying some time relaxing or playing in the water.
Onboard Dining
If you're planning to spend a good portion of the day on the boat, you don't want your family to go hungry. When choosing the perfect family boat, choose something that has food storage, a place to prepare food, and room to comfortably enjoy your meal.
Many hybrid bay boat models come with cooler storage. All Crevalle Boats have plenty of coolers throughout the boat so you can keep your drinks cool and your food fresh. The coolers also double as livewells so you can turn your family getaway into a fishing trip at any time.
If you're going to be eating on the boat in between water activities, you might want a place to wash your hands. Consider a boat with a sink area. This is very common now in boats geared towards fishing and family activities. It comes in handy for cleaning off fish or vegetables in addition to washing your hands. All Crevalle models have a setup to clean and cut food. The 24 HCO, 26 HCO and 26 HBW have a sink area behind the helm to clean and chop food. The 33 CSF has a freshwater fold-open sink in the aft area and includes cutting boards.
For optimal dining comfort, you can purchase an acrylic table that will fit on any Crevalle Boat.

Weather-Proof
Though you should avoid going out in dangerous conditions, you want a boat that your family can enjoy, in the sun, wind, mist, and maybe a little bit of rain. Here are some common weather-proofing features:
All Crevalle Models: Hardtop helms are durable and will easily protect those seated at the helm
33 CSF: Enclosed center console
26 HCO: center console hatch
26 HBW: Three-piece glass helm enclosure and hardtop above
24 HCO: Windscreen options compatible with the boat's covered top

Inshore and Offshore Versatility
For the ultimate family fishing boat, get something that is built for both nearshore and offshore fishing. Nearshore boats are great for swimming safely and mild water-play near the shore. Offshore boats are better for cruising, seeing new sights, and more advanced watersports. If you're looking for a family boat that can go nearshore and offshore, you should search for a hybrid bay boat. Hybrid boats are specifically designed to easily go from inshore fishing to cruising the open waters.
Great for Water Sports
When water sports are part of your recreational plans, a swim platform is a must-have feature. This allows you to easily and safely get back into the boat from the water.

Durability
Because a boat is a big investment, you'll want to make sure you get your money's worth. Most family bay boats are made of either fiberglass or aluminum. Aluminum boats are a good option if you are on a budget, but fiberglass boats can be more durable. Fiberglass boats are more stable on the rough and choppy waters.
Purchase Your Family Boat
Crevalle Boats are designed by fishermen with families in mind – including your four-legged family members. Our hybrid boats are perfect for inshore or offshore fun, durable, and offer plenty of storage, seating, weather protection, and personal comfort options. If you still need help choosing the best boat for your family, we recommend you check out How to Choose The Best Bay Boat, What To Look For When Buying A New Boat, and Buying A New Boat vs. Buying A Used Boat. If you're ready to purchase a Crevalle, you can start building your boat today.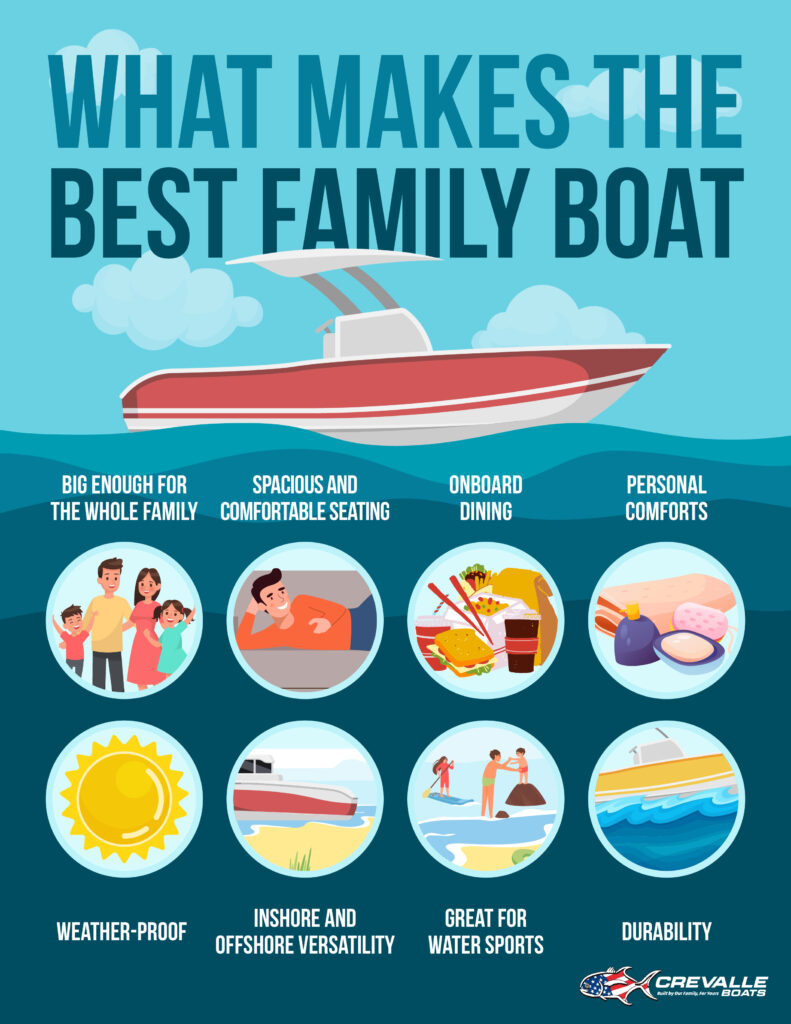 Check out Boating Magazine's Review of the Crevalle 26 HBW.