VERSATILITY
families & fishing first
Designing a hybrid boat means creating a vessel that serves the needs of fishermen and families. It also means building a boat that handles a variety of water conditions on all bodies of water.
Our boat-building roots are in fishing design, so our boats are designed to accommodate every variation of freshwater and saltwater excursions. All Crevalle boats include three live wells (two release wells and one bait well), lockable rod storage, leaning post tackle prep, and in-deck, cast-net storage and anchor storage. Each boat can be equipped with high-quality navigation technology and electronic components, stereo and speakers, and plenty of room to navigate around the deck while fishing. Crevalle hybrid fishing boats are designed and built by fishermen for fishermen.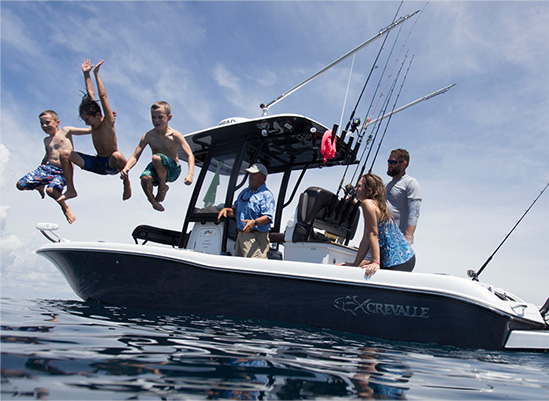 While fishing might be a primary reason for purchasing a Crevalle Boat, you know your family wants to enjoy the boat, too. You can rest assured everyone will feel just as comfortable on board as you do. Every boat has an available forward seating package and the design maximizes space so everyone has room to move and enjoy a day on the water, and an optional Porta Potti is available, too.
Safety matters at Crevalle, and our boats include features, such as higher gunnels (24' and 26' models have higher gunnels than most bay boats, OEM rigging, grab rails, centered aft seat, self-bailing cock pit, and a dedicated safety gear storage compartment. And all of our boat engines are installed by factory-trained installers, not an automated assembly line. We want to make sure your boat is as safe as it can possibly be when it rolls off the lot.
Saltwater or Freshwater. Inshore or Offshore. Wide open waters or your favorite fishing holes along the banks and shores of lakes and rivers, or family trips in the ocean. Wherever you float your boat, know that your Crevalle boat will provide you with the versatility and performance you need for fishing and creating family memories.