Crevalle Resin Infusion Manufacturing Process
Have you heard of CRIMP?
It stands for Crevalle Resin Infusion Manufacturing Process. Crevalle is one of only a few manufacturers to use this method of creating fiberglass parts with a near perfect ratio of fiberglass to resin in hybrid fishing boats.
By infusing the stringers and hull together as one fiberglass component, you will experience reduced noise and vibration, increased hull stiffness, consistency of integrated components, and — most importantly — a smooth and solid ride.
The next time you're on a friend's boat, ask if the boat has CRIMP. Oh, it's not a Crevalle? Then it isn't CRIMP.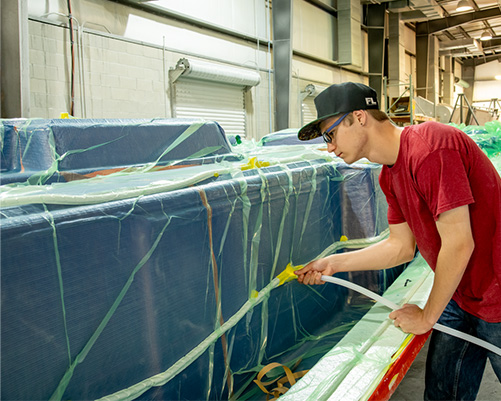 Crevalle Design Is a Differentiator
First, we design. Then we build.
And no other boat builder designs quite like Crevalle. Why? We build hybrid boats to satisfy the fisherman and the family. That's key. By integrating the needs of both, we build versatile boats that are as comfortable running to your favorite deep-water fishing spot as they are idling down the river with a beverage-filled cooler (or two) on a warm summer day.
Our overall design maximizes every inch of space so you have room to move.
Our innovative hull designs deliver a smooth ride with minimal splash.
Two coolers come standard on every boat (one for fishing, one for food and drinks).
Our hulls are designed with more deadrise than most; as well as a notch in the transom to feed lots of water through the propeller for shallow water take off, with the jack plate all the way up.
Since gel stress often originates from screw points under the rub rail, we etch out a line in the gel coat on both the deck and hull. The scribe line is hidden behind the rub rail and prevents the gel stress from propagating out.
Crevalle offers a marine misting cooling system that removes heat from the air to leave you cool and refreshed on the hottest of days.
A lot of consideration goes into designing our boats. Some might say it's the little things that matter most. At Crevalle, we think every detail is critically important when designing, building, delivering and enjoying each boat we make.
When investing your hard-earned dollars, you want your boating experience to be memorable for all the right reasons. Rest assured, Crevalle delivers happy memories.