Are you ready for an upgrade?
Are you looking for a unique boat? How about a touch screen display with digital switching?
Well here at Crevalle, you can have all of that and more. Let us go over our different models, and show you how unique we truly are. Soon you will be ready for that upgrade and telling all your friends they need to do the same.
Family Friendly Hybrid Boats
Are you looking to boat inshore or offshore?
How would you like to have the ability to fish for red fish in the morning and mahi in the afternoon? Well, here at Crevalle we don't make you choose! Our hybrid boats are perfect for either inshore and offshore and well suited for fishing the flats in Islamorada or the Marathon Humps. Versatility is what you get when you buy a Crevalle.
We specialize in family friendly hybrid boats. Every boat has a forward seating package and a design that maximizes space so everyone has room to move and enjoy a day on the water. We pride ourself on safety, making sure your family is never at risk on the water.  Crevalle boats feature higher gunnels than bay boats, grab rails, centered aft seat, self-bailing cockpit, and dedicated storage compartments for PFDs. 
Fishing
Are you planning on catching some fish? Our boats are tailored to your needs, here at Crevalle we have options for the avid fisherman. Check out our 24, 26 , and 33 models. Our boat-building roots are in fishing design, so our boats are designed to accommodate every variation of freshwater and saltwater excursions. Not to mention we have two aft bait wells, and one forward bait well standard on all of our models.  Additional features include leaning post tackle prep, and in-deck cast-net storage, anchor storage, and a built in tackle boxes.

Maximum Capacity
Are you cramped in your current boat? Sick of having to choose who gets to come and who has to stay home? How about we give you extra room and extra seats. Go ahead take the whole family for a nice shaded day out on the water, enjoy some swimming or fishing. Our boats hold between 8-10 passengers depending on the model.  Some are also equipped with a sunshade, to keep you staying cool. If you want to optimize your experience a slightly larger vessel may be right for you. Our models are between 24 and 33 feet. Giving you the comfort to sit back and relax, because there is plenty of space. Oh, and don't forget our high quality sound system. Go ahead turn on the radio or even connect your phone by using the bluetooth feature.

Quality
The quality of a Crevalle is like no other.  We only use the finest materials available in the industry, therefore our boats are built to last with expectations of high standards of performance. Additionally our hulls are built to deliver a smooth dry ride. In order for us to create the perfect hull we use infusion technology. You can learn more about this process here.
Additional quality factors:
100% composite material construction (no wood)
You have the opportunity to color match your helm to your hull side gel coat to reduce eye fatigue.
All of our boats go through a quality control test where we put our boats through vigorous trials. Ensuring you the customer always gets a picture perfect boat.
Your investment is warranted and supported by a factory of trained personnel.

Pictured: Infusion Process
Simrad/ Garmin Electronic Packages
We offer two different electronic packages, Simrad and Garmin. Our Simrad/ Garmin 12″ touch displays are just another way for you to stay in tune with your boat. Toggle through all the available features with our digital switching and you will be surprised just how much your boat knows about the waters you are in. Click on Simrad and learn more about all of its features. Click on Garmin and learn more about all of its features.

Storage
Do you often run out of room for all of your fishing rods, tackle boxes, and additional items? Well we have you covered. Crevalle models have a multitude of storage options for you and your family.
In deck forward floor storage
Lockable rod storage
Port and Starboard in gunnel PFD storage
Under gunnel rod storage
Dry storage in the bow
2 coolers, one 60-quart and one 72-quart

Available Models
Take a look at some of these specs, to help you pick what features and options are a must for you.
24 foot center counsel bay boat- 24 HCO
26 foot center counsel bay boat- 26 HCO
26 foot offshore center counsel boat- 26 HBW
33 foot center counsel fishing boat- 33 CSF
Find A Dealer
Now that you have versed yourself on which models have what features, let us get you in a Crevalle. 
Click here to find a dealer near you. They can help you in all aspects of the boat buying process, including financing, titling/registration, and the delivery or pick up of your boat.
Or visit us at one of our upcoming boat shows.
Build your Boat
Did you know we have an option for you to build your boat?
First visit the Build Yours section and pick from the four different models. Once you have chosen your model, you can go through and pick the engine you want, the hardtop, colors, electronics, and additional features/options! Once complete click on Ready to get a quote and simply fill out your information and wait for an email. It's that easy!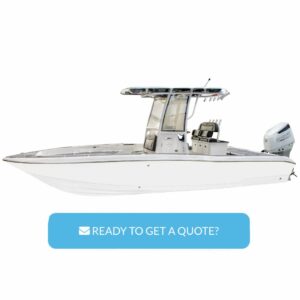 Share
We hope you love your new Crevalle. Take pictures on Facebook and Instagram and as always don't forget to #Crevalle or #CrevalleBoats so we can repost you. Make sure to tag us @CrevalleBoats to ensure we see your post.