Hurricane season begins on June 1st and lasts through November 30th. With potential hazards including storm surges, high waves, torrential rain, and tornadoes, hurricane preparation should be an annual part of your routine if your boat is docked on the Gulf or Atlantic coasts. Buying a boat is a big investment, so protect it from damage with insurance and other preventive measures. In this article, we'll cover 7 hurricane preparedness tips for boat owners.

Review Your Boat Insurance Policy
You should sign up for insurance coverage on your boat as soon as you purchase it. If you don't already have a policy, you can look into getting one now. Yes, it's an expense, but the cost of hurricane damage to your boat could be far more expensive. For boat owners who are already insured, check off these to-dos:
Check your policy or call your insurance provider to make sure your coverage hasn't lapsed.
Store your marine insurance policy somewhere safe—not on the boat itself.
Look for hurricane season provisions in your boat insurance policy. For example, if you're required to relocate your vessel to a non-hurricane zone, make sure to do so by the date specified. Not following these provisions could result in denial of your claims.
If your boat is moored at a marina, ask about their insurance policy and any hurricane provisions you need to follow.
Understand Your Marina's Hurricane Preparation Plan
Successful hurricane preparation is about acting as early and orderly as possible. A good marina operator should have a plan in place with timetables for each stage of the prep work. For example, once a hurricane watch is announced, it's time for measures such as wet slip evacuation, securing dry storage boats, and other prep.
If your boat does need to be moved in the event of a hurricane, ask the marina operator to recommend alternative boat storage locations. You'll also need to have a haul provider, route, and destination identified in advance.
If it's going to stay, find out the procedures for securing the marina ahead of a hurricane. Do you live near the marina or will you need to appoint someone else to carry out your hurricane readiness plan in your absence?

How to Choose a Boatyard
If you don't already have a boat storage location in mind, here's what to look for:
How far inland is it?
Is there enough elevation?
Is there an estuary nearby to absorb the storm surge?
If you have a sailing vessel, will you be able to unstep the mast?
Are there hurricane anchors to secure boats to the ground?
Does it have electricity and a backup generator?
Is there gravel or concrete under the jack stands?
Is there WiFi and/or a webcam so you can monitor your boat from afar?
Storing Your Boat
If you are able to leave your boat at the marina during a hurricane, you'll need the right equipment, such as longer dock lines, to secure your boat for a hurricane.
At Crevalle, we offer a mooring package with 4 dock lines, 150′ Anchor Line, Chain, Shackle, 13lb Anchor, 4 Phender Pro sockets, 2 Phender Pro Pins, 2 Flat Fenders for our 24 Bay and 26 Bay and 26 hull boats. Mooring covers are also available for HardTop models, as well as helm face covers.
For the 33 Sport Fishing Boat, the optional mooring package includes 6 Dock Lines, 6 Phender Pro sockets, 3 Phender Pro Pins, 3 Fenders. The mooring cover is also available, in addition to a weather enclosure.

Hauling Your Boat
If your boat is small enough to fit in your garage, you could temporarily move your car and store your boat there instead. If you plan to haul your boat yourself, be sure to maintain your trailer so you don't run the risk of getting a flat tire when you need it the most.
If you can't leave your boat at the marina or haul, seek out a Hurricane Hole and leave your boat there. Again, make sure your boat is moored and anchored properly, and use long dock lines.
Wherever you decide to store your boat, use reinforced Jack Stands and avoid Davits and Lifts. You can also try the "Spier Web" method for anchoring your boat.
Prepare Your Boat for a Hurricane
If you are leaving your boat outdoors, follow these steps:
Make a video inventory of the valuable fixed items on your boat, such as marine electronics.
Store important documents related to your boat, such as your marine insurance policy, somewhere safe and off your boat.
As soon as a hurricane watch is called, remove detachable items such as canvas, sails, cushions, fishing rigging, radios, electronics and antennas. Lash down anything else that can't be removed.
Deflate your dinghy and store it and its outboard motor. (Does not apply to Crevalle boats)
If your boat is on a trailer, lash it down securely. Use tie-downs to anchor the trailer to the ground and let the air out of its tires.
Disconnect the battery. If your boat's storage facility has shore power, turn off all power sources and store cords.
Center your boat in its slip, double-up dock lines, and make sure they're long enough in case of high water.
If your boat is anchored, make sure it has enough scope and set extra anchors if needed.
Remove all sails if you have a sailing vessel.
For anything you can leave on the boat, such as sunglasses, Crevalle's center console hybrid boats have lockable storage to secure valuables.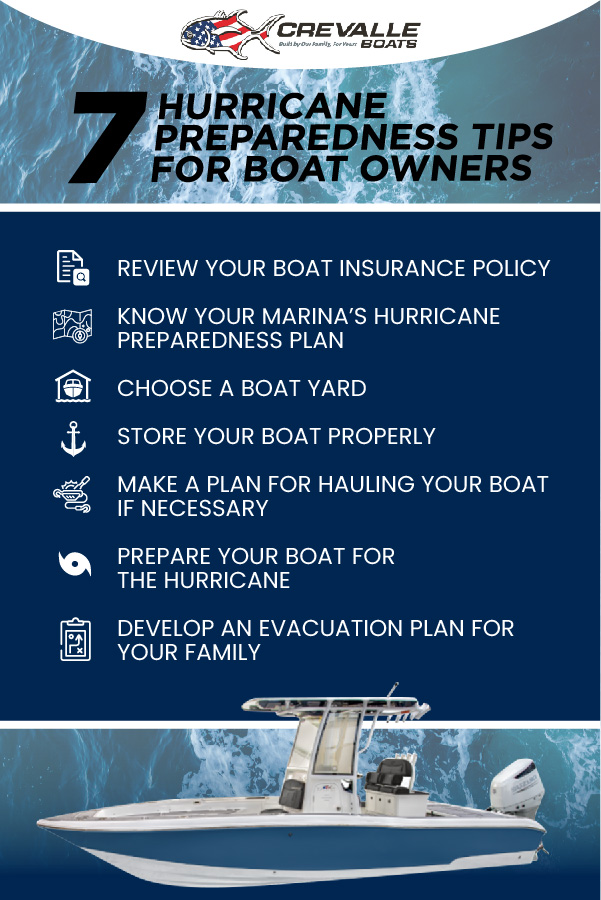 Develop an Evacuation Plan for Your Family
The last important tip we'll give you is to create an evacuation plan for yourself and your family and conduct regular practice drills so everyone knows what to do in the event of an unexpected storm.
Your evacuation plan should include some of the steps listed in the previous section, such as removing anything detachable from your boat and tying it up securely at the marina. Also stock up on emergency supplies such as food and water, flashlight and batteries, medications and first aid supplies, and cash.
Finally, pay attention to weather forecasts and make a habit of charging your boat's radio before every trip so you'll be able to receive up-to-the-minute weather information.

Check Out More Boating Resources from Crevalle!
For more boat owner resources, download the Crevalle Manuals and register your boat with us. Check back on our boating blog for more boating resources, such as safety tips for boating with your dog, what makes a good family boat, and how to finance a boat.