Boating is an increasingly popular activity – attracting new boaters young and old. Bay boats, known for their versatility, have been in demand for the last decade. If you're considering buying a bay boat, there are many things to factor into your decision. Here's what you need to know to help you choose the best bay boat for you.

Boat Size
Size may be an important factor when choosing the best bay boat for you and your boating needs. You may be accustomed to a boat of a certain size. If you're looking to replace an existing boat, you may need to find something that fits in your existing storage space. Most bay boats run between 19 and 26 feet. A 24 bay boat is an average size for anglers. But there are plenty of options if you need to get something more compact. Or, if you want something larger and more luxurious a 26 bay boat is a slightly bigger option.
Nearshore or Offshore?
Most bay boats are built for nearshore fishing activities. But more boaters are opting to take their bay boats further offshore. How far offshore can you go with a bay boat? One blogger suggests that depends on the experience of the captain, the seaworthiness of the boat, the weather conditions, the fuel range, and the boater's willingness to take risks. As captain of your boat, safety should be your top priority. If you prefer the size of a bay boat but want to venture offshore, consider a hybrid bay boat. Hybrid bay boats are built specifically for fishermen who want to venture between inshore and offshore. Hybrid bay boats may be larger than traditional bay boats to accommodate the rougher blue waters, but you can find a hybrid bay boat in the 24-foot range. One of the most popular sizes is the 26-bay boat. These tend to range between 25- and 27-feet Length Overall (LOA).

Horsepower
How fast do you want your boat to go? If you're traveling further offshore to reach your favorite fishing destination, you will want something with enough horsepower to get you there quicker, and not waste precious fishing time. Fishing boats can have between 50 HP to 300 HP, depending on the size of the boat. Bay boats have a little more power to them. The average bay boat runs between 250 to 300 HP. If speed is an important factor when trying to find the best bay boat, consider a larger boat. A 26-bay boat can go between 300 to 400 HP.
To play it safe, one rule of thumb is to have 25 – 40 pounds of weight per one horsepower. Manufacturers may also have certain limits on maximum horsepower to stay safe in the water.

Who will be enjoying your bay boat?
One of the most important factors in choosing the right boat is knowing who will be enjoying your bay boat. If the boat is primarily a fishing boat for yourself and one other person, then you can go with something on the smaller side. Although, if you are an avid fisherman, you will want to make sure have rod storage and live wells for a comfortable and efficient fishing experience.
If you would like the entire family to enjoy your bay boat as much as you do, there are plenty of options for family-friendly fishing boats. Hybrid bay boats built for fishermen with the family in mind are a very attractive option. Family friendly-fishing boats such as Crevalle hybrid bay boats have additional seating to accommodate the entire family. Under-the-seat live wells that double as coolers, and comfortable foldable seats make it easy to go from a guy's fishing trip on the flats to an offshore trip with the family. A family of four could comfortably enjoy a 24-bay boat, especially with the addition of a cockpit picnic table. If your main reason for purchasing a boat is recreation and you plan on long trips with family and friends and you want just a little more room, consider upgrading to a 26-bay boat.

Materials and Durability
Bay boats are typically made from aluminum or fiberglass. Aluminum boats tend to be less expensive than fiberglass, so they are a great option if you're on a budget. They also tend to weigh less, which makes them easier to launch and easier to trail. However, because they weigh less, you will want to be more conscious of going offshore and avoid choppy waves. Aluminum boats also require less maintenance.
Fiberglass boats, though more expensive, tend to weigh more and thus have more seakeeping abilities and stability. Fiberglass is easier to manufacture and easier to create more complex hull shapes, and cool boat accessories like live wells, tackle stations, fish boxes, and seating modules are integrated into the structure of the boat. Although fiberglass boats can mean more maintenance, they are better built for the choppy waters that you'll encounter if you regularly fish offshore.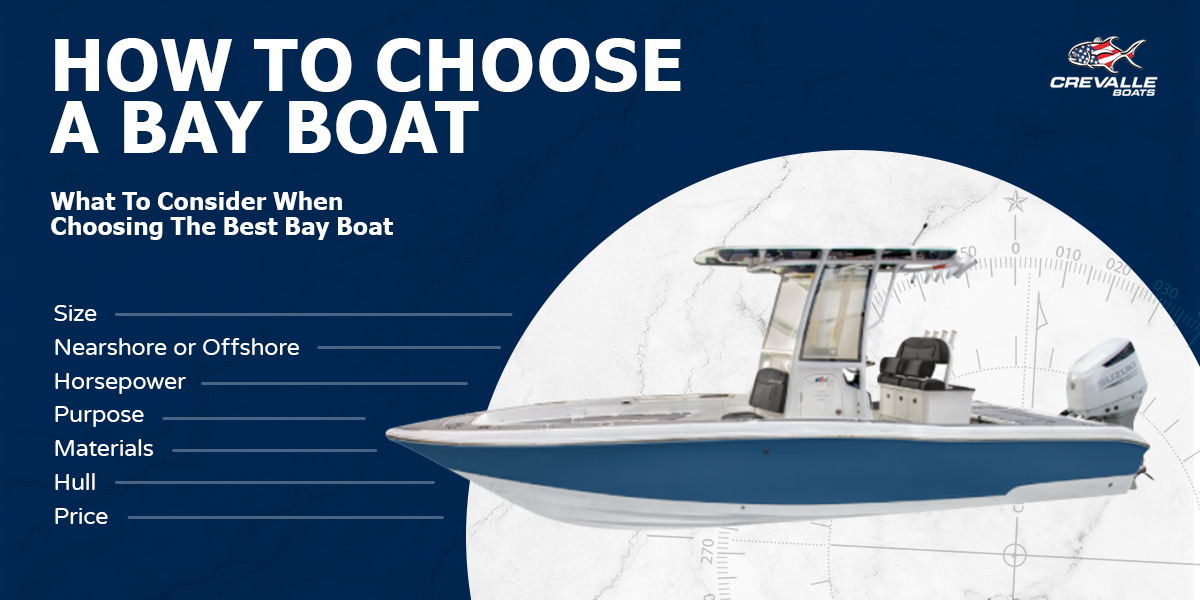 The Hull
For those unfamiliar with boat terminology, the hull is the portion of your boat that rides in and on top of the water. Different hull designs and shapes can affect the boat's stability. Deep V-hulls which are wedge-shaped from bow to stern is often considered the most stable. Modified-V hulls are the most common hull for small boats. Flat bottom hulls have almost no deadrise.
The importance of hull stability varies based upon your needs. If you're looking for a nearshore fishing boat, a flat bottom hull might work for you. Small bay boats in steady waters would be fine with a modified V hull, but if you're looking for an offshore fishing boat that can sustain heavy waves, your best bet would be a deep-v hull.

Price
For many boaters, especially new boaters, the price can be an important factor in deciding which bay boat is right for you. Boats are expensive because they are handcrafted products compared to automobiles which are made on an assembly line. Bay boats can cost as much as $150,000 (if not more). The size, capability, and materials used determine the cost of the boat. If you're looking for a boat for occasional use, you may be able to sacrifice some important features to save money. If you're an avid boater, you know just how important certain features can be. To you, it's worth the price. A quality bay boat is a good investment that can be enjoyed for years to come.
Related blog: Benefits of buying a new boat vs. buying a used boat
Find The Best Bay Boat
When it comes to choosing the best bay boat, there are many important attributes to consider. It all comes down to what is the most important thing to you and what you will be using your boat for. If you need more help choosing the right bay boat, download the brochures for our Crevalle 24 bay boat and Crevalle 26 bay boat, or consider taking a boat factory tour to see how Crevalle boats are made. When you're ready, request a quote, or start customizing your hybrid bay boat. We can't wait to get you onboard the perfect bay boat.
You might also like: What to look for when buying a new boat and What Makes A Good Family Boat?